Laundry ‫Service in Springfield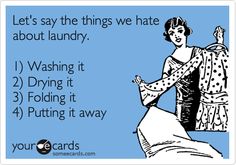 Laundry, laundry, laundry. Everyone loves freshly cleaned clothes but nobody likes to wash it, throw it in the dryer, and then fold it! But then again, few things feel as good as slipping into a cool bed with freshly washed sheets after a long day at work.We know how busy you are, and how easy it is to get behind on laundry. That's why we now offer a laundry service with each of our regular services. If you're getting some housekeeping done regularly or another one of our cleaning services we'll happily do a load of laundry for you. 
All we need in order to do it is for there to be either a washer/dryer in the unit/house or on the premises, and for you leave us your favorite detergent and fabric softener for us to use.